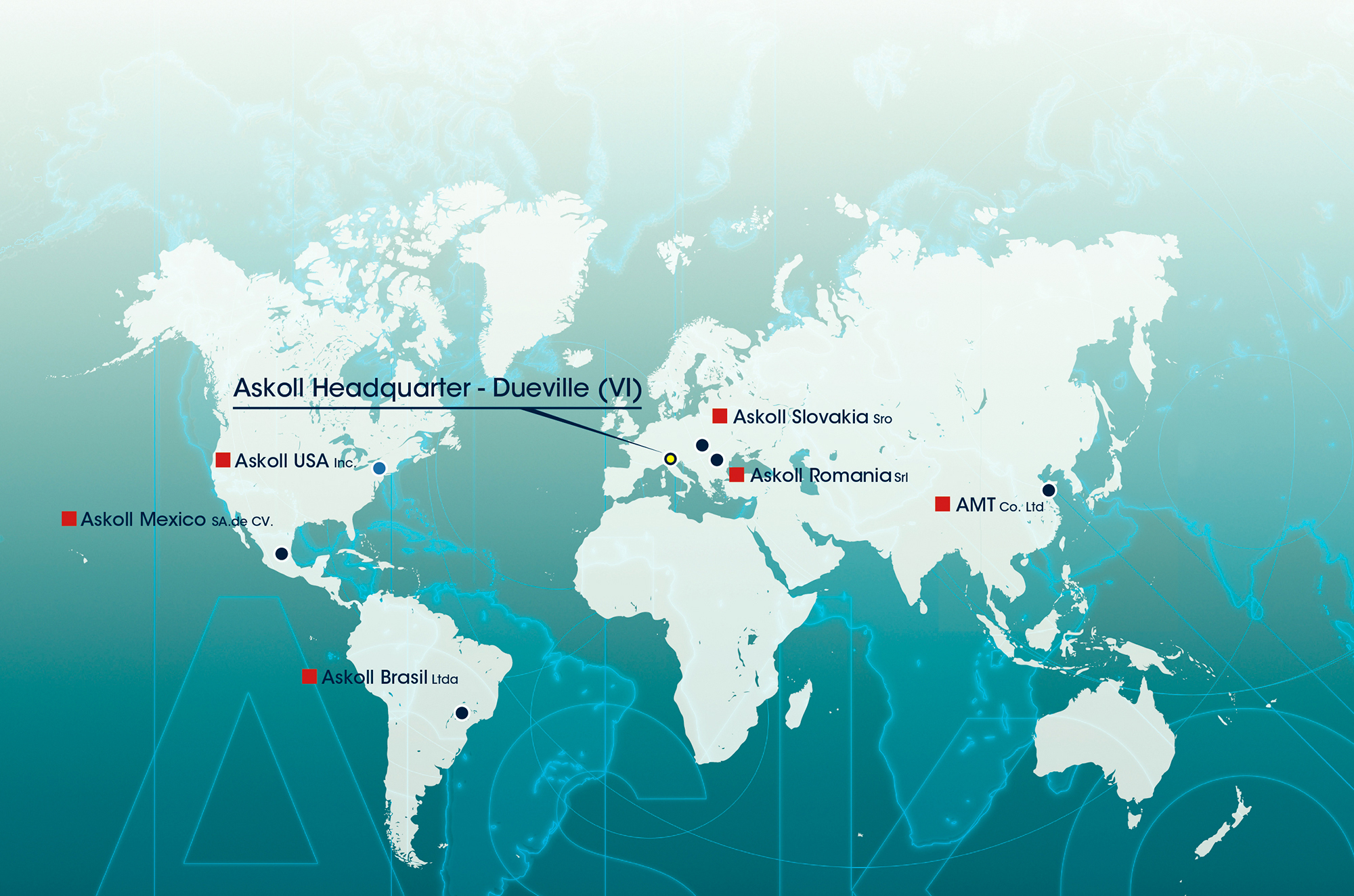 STRATEGIC PARTNERSHIP ON A GLOBAL BASIS
Askoll global presence offers a more efficient logistic, ensuring not only proximity to customers, but to their end-markets and its specific requirements.
Askoll assures same level of performance and quality all over the world with its people and production plants
Askoll grants an effective customer support in product development and application engineering where appliances are designed all over the world
Askoll knows how to be a strategic global procurement partner meeting the demands of its customers
PURSUING THE MAXIMUM EVERY DAY
We uncompromisingly focus on quality, reliability, innovation and much more.
CUSTOMER CENTRIC APPROACH
Askoll people uncompromisingly focus on customer needs.
35 YEARS' EXPERIENCE IN THE COMPONENTS SECTOR
Millions of household appliances in the world have Askoll technology at their heart.
ASKOLL PEOPLE ARE THE ADDED VALUE
A global team working with great passion and competencies to be the leader every day.
CLEAR VISION OF THE MARKET
Pioneering spirit mixed with market analysis are at the basis of continuous development of Askoll.
DRIVEN BY INNOVATION
At Askoll we believe in innovation and actively manage it as part of daily work.
RIGHT SOLUTIONS AT THE RIGHT TIME
With a local-to-local strategy Askoll stands near to customers facilities and their end-market.
BORN SYNCHRONOUS, BORN SUSTAINABLE
Askoll brushless synchronous motors allow to reduce energy consumption with same performance using less row materials.
ENDLESS CUSTOMIZATION POSSIBILITY
Complete control of product and production process that provides endless customization possibilities.
CERTIFIED QUALITY ON A GLOBAL BASIS
Askoll assures same level of quality and reliability all over the world.
MAIN AREAS OF OUR
PRODUCT

PORTFOLIO
THE CUSTOMER AT THE CENTER OF EVERYTHING WE DO
Passion, courage and competence drive us every day to seek the maximum satisfaction of our customers.